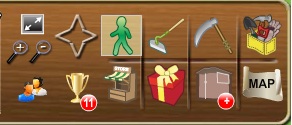 The Map is how you navigate to the Marketplace, The Bank, Fuel Station, The Inn, or the Realtor Office. The Map icon in your toolbar.
From there a screen will pop up with the Map. You can select your Language from this screen as well using the drop down menu at the bottom. Click on the icon of the place which you wish to go and you will be taken there.
Ad blocker interference detected!
Wikia is a free-to-use site that makes money from advertising. We have a modified experience for viewers using ad blockers

Wikia is not accessible if you've made further modifications. Remove the custom ad blocker rule(s) and the page will load as expected.